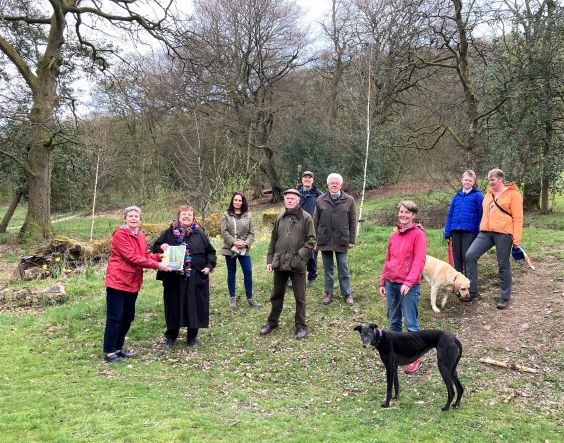 The Friends invited the out-going Mayor of Todmorden to her last official engagement on Friday, to thank her and the Town Council for their support during the Year of the Tree 2020.
Mayor Ruth Coleman Taylor met members of the Friends of Centre Vale Park to receive a complementary copy of a booklet on Centre Vale trees authored by two Friends and part-funded by the Town Council.
The booklet, "Stories of Centre Vale Trees" focuses on 12 individual trees in Centre Vale, and explains briefly how they fit into the history and planting of the park. It is beautifully illustrated with photos and original line drawings, and gives botanical information to help indentify the individual species.
The Mayor was also shown the three young trees, two Silver Birches and a Sweet Chestnut that the Town Council donated to the park last year. These were planted out this winter and are now coming into leaf.
When Ruth was introduced to Karen Andrews the Chairman of the Friends she said how pleased she was that the Town Council had been able to mark the Year of the Tree with two excellent and lasting projects to help promote and improve our beautiful park.
The 32 page booklet is available for sale at the TIC, and all current Friends of the Park are entitled to a free copy which they can collect from there.